Why Choose illumiflow Over Other Laser Cap Brands:
If you're looking for a cap that lights up and promises to regrow your hair, there are literally hundreds of options just a search away. But, as we all know, there is plenty of junk on the market. Every market. Even the laser cap market.
illumiflow, however, offers its users unmatched quality, durability, safety, and effectiveness.
Our story spans over many years of hunting, designing, and testing to solve a problem that so many of us face. The result is the illumiflow laser cap, the most effective and affordable way to reverse hair loss and regrow hair. It's the best non-surgical, non-prescription option for people everywhere who are looking for a solution.
Need proof? We've got the FDA clearance, offer a money back satisfaction guarantee, and offer the best product warranty on the market.
The idea for an at-home laser cap began with clinic-based laser therapy centers, which harness low level laser therapy (LLLT) to fight hair loss, but the regular appointments don't fit into many peoples' schedule -- or budgets. There were OTC laser combs, but they were much less effective and user-friendly. With the goal of bringing a better option to the average consumer, illumiflow packed the same LLLT tech into a ball cap. And we did it without losing any of the laser power needed to effectively stimulate hair follicles. In 2017, illumiflow was one of the first laser caps to be granted clearance by the Food and Drug Administration as an over-the-counter product, allowing us to sell directly to men and women at a fraction of the cost offered by clinics.
There is a safe, effective, at-home solution that uses clinically proven technology and doesn't require a doctor's prescription. One that's backed by science and had to pass the FDA's stringent guidelines and qualifications before being sold to you.
How illumiflow Laser Therapy Works
Using specific wavelengths of laser light, the illumiflow lasers penetrate your scalp and reinvigorate cellular production. Basically, it wakes up dormant follicles, which we explain in more depth on our website.
Here's an illustration of what you can expect from using illumiflow Laser Caps:
Focus on FDA Clearance Advantages:
You may notice a big price difference between LLLT caps. Often this is because the cheaper product hasn't been cleared by the FDA, while the pricier option has.

Why is FDA clearance worth the extra money?
● No more middle man: No doctor's visit. No appointments at the clinic. Instead, illumiflow gives you all the benefits of LLLT from the comfort of your own home. Or office. It's up to you.
● You get what you pay for: There are cheaper options on the market that didn't undergo the strict testing and inspections it takes to earn FDA Clearance, also known as 510(k). As a result, those manufacturers produce cheaper, inferior products and usually aren't accountable for safety. Seems like wasting your money is actually the best-case scenario here.
● All lasers aren't created equally: In other words, some laser cap brands tout "full coverage," but then cut corners in terms of laser quality and the consistency of current carried to each diode. That means the power flow per laser is often lacking and so will your results.
● What goes into earning FDA clearance: It's important to remember that illumiflow's 148- and 272-diode laser caps are Grade II medical devices. Flaws in design or equipment could mean serious problems for our users. So, everything is tested and retested. Inspected, and re-inspected. Every one of our claims were verified, and verified again. All in order to bring you exactly what we promise: a revolutionary, yet safe, way to regrow your hair from home.
● Since earning our 510(k), we've been audited in-person by the FDA, and successfully passed all quality system procedures.
Earning FDA clearance and bringing illumiflow to market before our competitors isn't just a point of pride, it's proof of quality. While we developed the highly scrutinized technology that earned us 510(k), many of our competitors have since earned the same designation by copying our tech, making them "predicate devices"

So, they aren't held to the same standard as the original before they sell to the public (read more about that and more on our post here).
Further, it takes time and capital to create an infrastructure and customer support system so keep in mind not all FDA cleared laser cap brands are created equal. In fact, the more recent the FDA clearance, the less likely they will be around to honor their product warranty and return policies.
To illustrate this point, note the timeline below that illustrates when illumiflow was granted FDA clearance: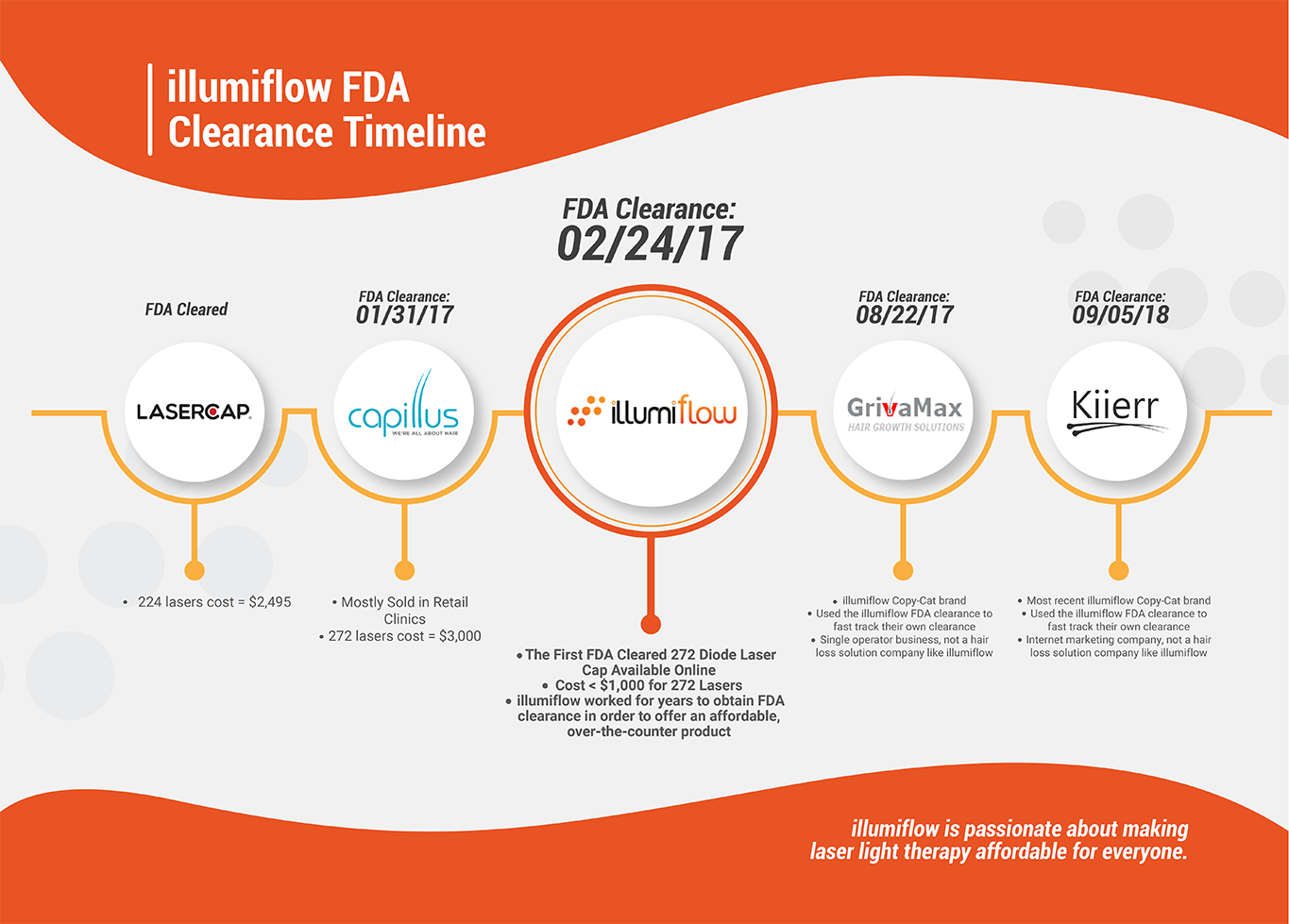 Now here's what you get that's NOT in the box: the best customer service in the market.

Your illumiflow laser cap includes a three-year product warranty, plus a RISK FREE 6-month return policy if you're not satisfied with your purchase.

Just send it back in like-new condition, and we'll send your money back.
As much work as we put into the illumiflow laser caps, we want you to be as happy as we are.
illumiflow vs. the Competition
To help you in your research, here's some information on illumiflow and how we stack up to our competition. This will give you an idea of some of the raw numbers you'll want to know. We also shared some review videos below the chart. That way you can see for yourself why you should give illumiflow a try today!

Laser Cap Product Comparison Videos
illumiflow Laser Caps are Dr. Recommended