Ingredients in Our Proprietary FollicleFX Blend
Saw Palmetto - Berry Extract

Pygeum Africanum - Bark Extract

Beta Sitosterol - Whole Powder Complex

Green Tea Extract

Biotin - To provide strong cells for new hair

Zinc (as Zinc Picolinate) - For hair follicle recovery

Copper (as Copper Sulfate) - To reverse damage done to your follicles

DL-Methionine - An essential amino acid helping regrow thicker hair
Methylsulfonylmethane (MSM) - To make your hair look shiny and healthy

L-Cysteine (Enteric Coated) - To decrease hair loss and return to natural hair growth

Grape Seed Extract - To continuously stimulate hair follicles for abundant hair

Horsetail Rush Herb Extract - Strengthens your hair and maintains regular growth

Gamma Linolenic Acid (GLA) Powder - An omega acid that promotes healthy and strong

Stinging Nettle Root Extract - Reduces oxidative stress and scalp inflammation

DIM - For abundance of micronutrients for hair health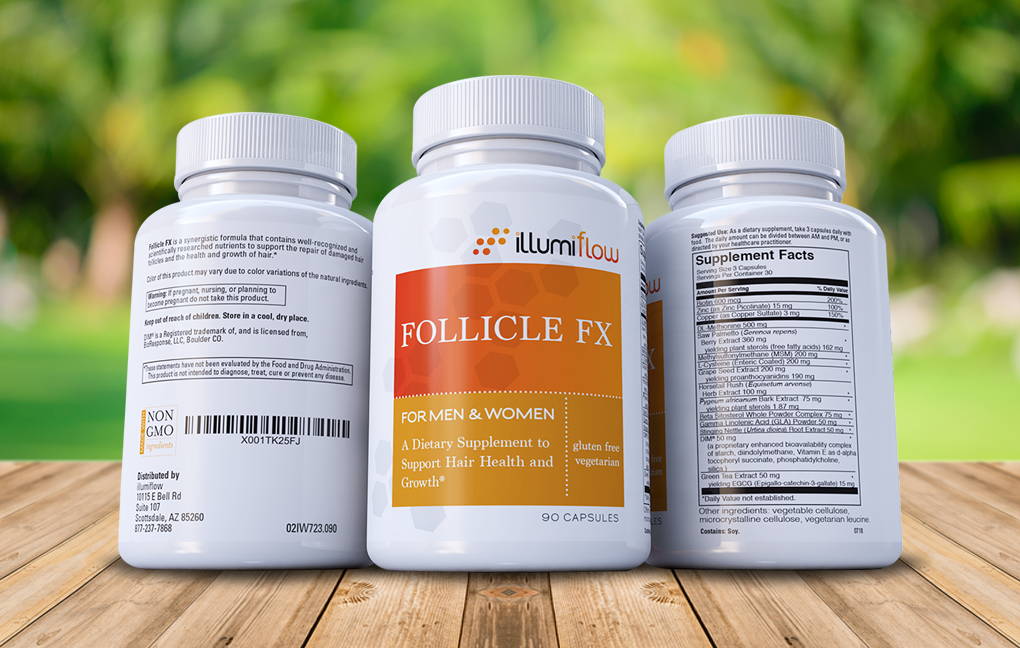 TONS INGREDIENTS PACKED INTO 1 SUPPLEMENT
Follicle FX contains 11 time-tested, natural, and effective hair growth nutrients proven to regrow your hair.


You only need to take Follicle FX once a day to get the effects. However...

...DHT doesn't stop attacking your body. Every hour that passes, it's eating away at the healthy follicles of your scalp slowly and creating dormant follicles which will eventually die.

The longer you wait, the harder it becomes to repair the follicle and regrow healthy, thick hair.
What Other People Like You Are Saying About illumiflow